JAYNE DENHAM'S "BLACK COFFEE AND WHITE LINES" VIDEO FEATURES ICE ROAD TRUCKERS CAST & REFRIGIWEAR GEAR
Country singer/songwriter Jayne Denham filmed the video for her song "Black Coffee and White Lines" on the highways of Alaska. The video features 3 cast members from the History Channel's Ice Road Truckers as well as some of RefrigiWear's warmest gear. The song celebrates the dedicated men and women that keep goods flowing across our whole country, even in the most extreme conditions. It's a heart-felt tribute to some of the hardworking men and women RefrigiWear loves the most.
About Jayne Denham
One of Australia's most admired country performers, Jayne has appeared on festival main stages across Australia. Jayne has scored five #1 radio hits and six top 10 CMC videos. Performing at some of the biggest truck shows in the world her single "Black Coffee and White Lines" was released at the Great American Trucking Show in Dallas, TX with the accompanying video.
Also known for her trucking songs, her deep connection with American audiences and the trucker community led to Jayne becoming Ambassador for the Women In Trucking Association in the United States.
Here she is rocking the RefrigiWear Women's Pure-Soft Puffer Jacket while on the "Black Coffee and White Lines" video shoot:
About Ice Road Truckers
Ice Road Truckers aired on The History Channel from 2007 to 2017 and followed the trucking adventures of big rig drivers in remote territories in Canada and Alaska.
Ice Road Trucker Carey Hall bought himself some Iron-Tuff Coveralls back in 1992. He loves those coveralls and says they were still keeping him warm; but, in honor of the "Black Coffee and White Lines" video, we sent him some new coveralls. We also sent him some new Iron-Tuff gloves and waterproof work boots. Check out the video below to see him try them on!
Behind the Scenes of "Black Coffee and White Lines"
While on the shoot in Alaska, Jayne commented in a social media post "Not sure how we would have coped tonight in minus 8, but it felt like minus 15 due to wind chill, without our clothes supplied by RefrigiWear. THANK YOU!!"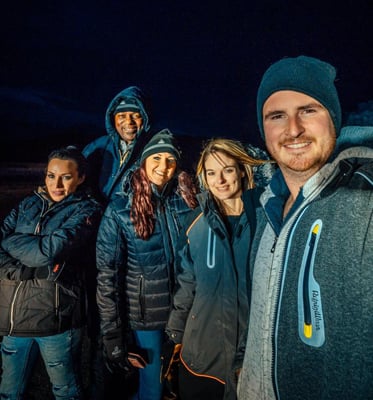 Pictured from left: Ice Road Truckers Maya Sieber and Carey Hall; country music star Jayne Denham; Ice Road Trucker Lisa Kelly; video director Jay Seeney
Check out this behind-the-scenes footage and look for some of RefrigiWear's warmest insulated workwear:
Thank You, Truckers!
RefrigiWear salutes all of the drivers, warehouse workers and production employees that keep food and other vitally important products moving across the country.