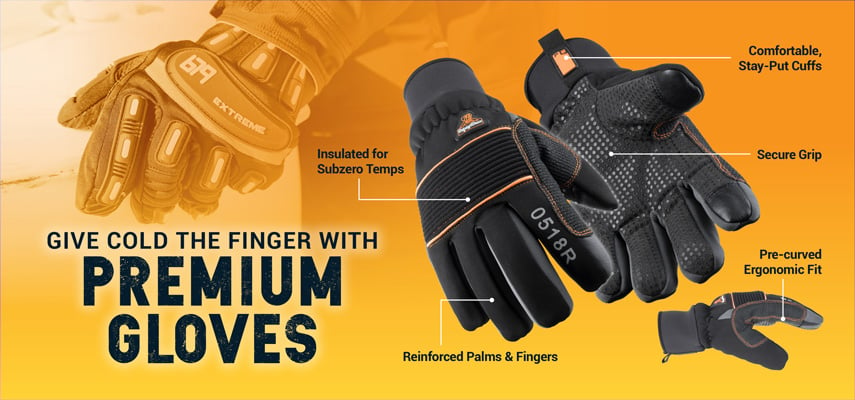 GIVE COLD THE FINGER: TOP 5 FEATURES OF PREMIUM GLOVES
Your hands are your most important tools and when you're playing a game of bloody knuckles with cold, harsh conditions, you need serious protection from insulated work gloves built to last. Let RefrigiWear® give you a hand with Premium Gloves that offer maximum warmth for your level of cold, along with trusted durability and superior performance.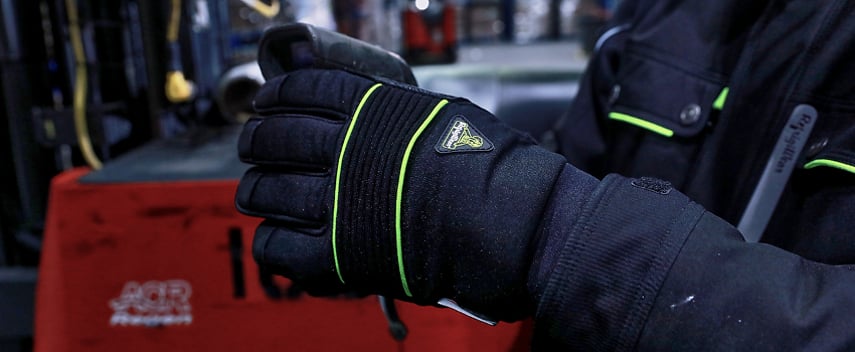 1. Insulated for Subzero Temperatures
Premium Gloves from RefrigiWear® are built strong with a durable outershell and layers of insulation to protect your hands from the worst nature can throw at you. Our collection of Premium Gloves includes options for working in frigid -30°F temperatures, in near-zero temps and in milder conditions hovering around the freezing point.
Use RefrigiWear's Comfort and Induradex® Ratings to choose the right gloves for your working conditions based on temperature, insulation, durability and dexterity. For example, if you're working in a subzero freezer or outdoors in harsh conditions, the Extreme Freezer Glove or Extreme Freezer Mitt offer warmth and added impact protection while the Extreme Ultra Grip Glove is well-suited for jobs that require a secure, no-slip grip with cut resistance.
When conditions are milder, the Grip Gladiator Glove delivers a firm grasp on the task at hand. The Ultra Dex Glove works well for hands-on jobs that require delicacy and precision in near-freezing conditions.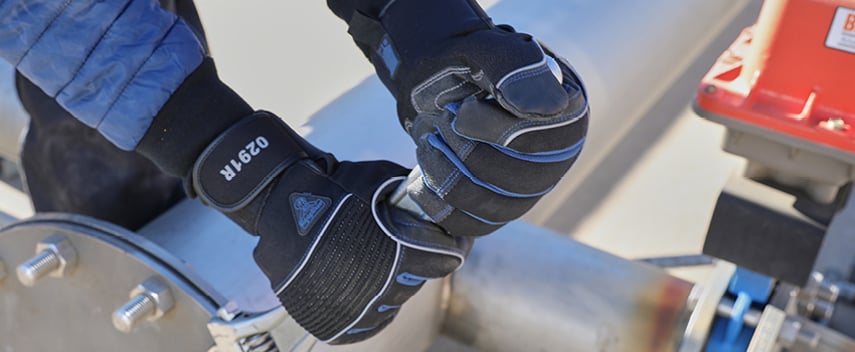 2. Reinforced Palms and Fingers
Knuckle up in the fight against cold with the protection and durability of reinforced palm, thumb and finger patches. Waterproof Frostline® Gloves include reinforced palms and thumbs, as well as protection that stretches over the tips of the fingers for increased durability in -25°F conditions.
Reinforced work gloves, such as the Freezer Edge® Glove, deliver a one-two punch of durability and functionality. Freezer Edge Gloves include a leather palm patch, PVC abrasion pads on the fingers and a touchscreen-accessible patch on the forefinger so you can use your devices without removing your gloves. Insulated Cowhide Leather Gloves with Key-Rite Nib are reinforced with leather patches on the palm and thumb crotch and built with Kevlar thread to protect your hands in temps as low as -25°F. Plus, the Key-Rite Nib helps you enter data without having to remove your gloves.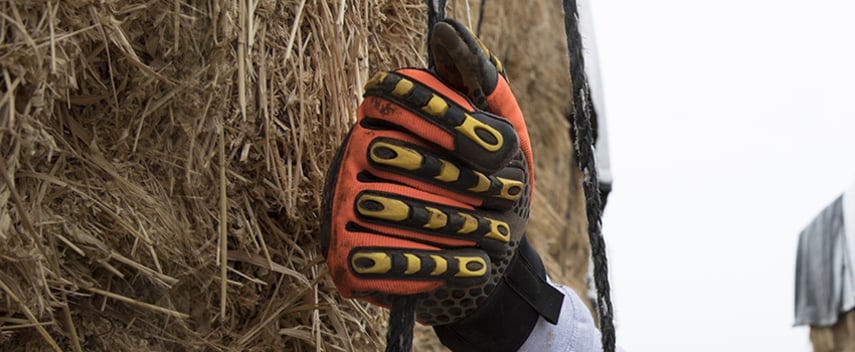 3. Secure Grip
A secure grip ensures that you don't drop the ball – or the box, or the tool – on the job. RefrigiWear's collection of Premium Gloves include several with silicone dot Grip Assist patterns on palms and fingers to boost your gripping power, so you can securely hold onto boxes, tools and equipment.
PolarForce® Gloves and PolarForce® Mitts with Grip Assist offer maximum warmth and control of whatever you're handling, even in -30°F conditions. ArcticFit™ Max Gloves deliver warmth in -25°F temps with a soft fleece lining and a silicone grip pattern on the palm, as well as added protection from impacts at the knuckle and wrist.
Insulated Impact Pro Gloves offer warmth in -20°F temps with Grip Assist and the added protection of impact pads on backs of hands and fingers. For jobs that require a sure grip and maximum dexterity, Grip Gladiator Gloves punch out everything on your to-do list with a full silicone palm coating, reinforced thumb crotch and thin, lightweight insulation suited for temps as low as -10°F.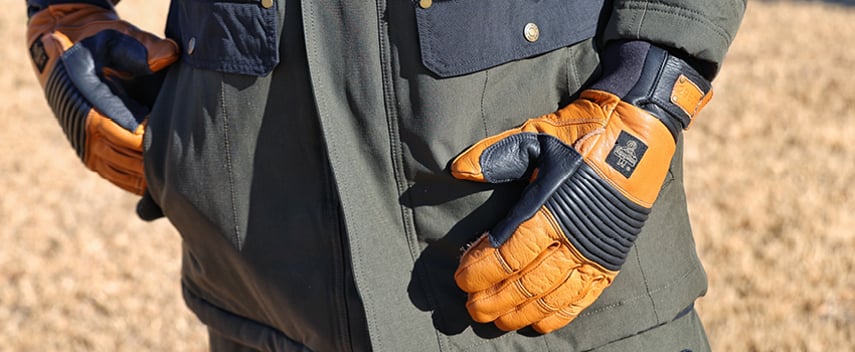 4. Comfortable, Stay-Put Cuffs
When you've got your hands full, the last thing you need is for your glove to slip or come loose. All Premium Gloves from RefrigiWear® offer a snug and secure cuff and several are available with adjustable cuffs that allow you to customize your fit to suit the task at hand.
When conditions are hazardously cold, reach for the gauntlet-style Heated Glove with Rechargeable Battery. Get a grip on the toughest jobs with Performance-Flex on the knuckles and toggle cinch close wrist that ensures your gloves stay put and the heat stays where it's needed most.
Built with Kevlar® thread for durability and soft, no-break-in-required leather, 54 Gold Gloves insulate and protect your hands in -25°F conditions while keeping a secure fit with an insulated adjustable cuff. You'll also find fully adjustable cuffs on Waterproof Frostline Gloves, Insulated HiVis Super Grip Gloves, Grip Gladiator Gloves and Ultra Dex Gloves.
If you prefer a safety cuff stretching over an extended wrist, get your hands on Waterproof Abrasion Safety Gloves, Freezer Edge® Gloves, Dipped Leather Mitts, Insulated Softshell Gloves or Women's Insulated Softshell Gloves.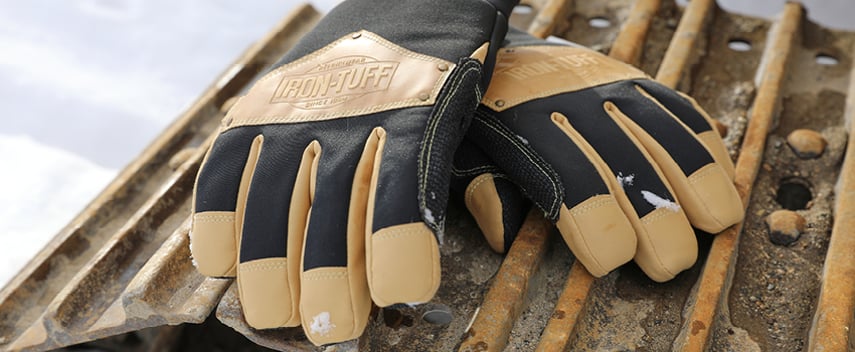 5. Pre-Curved, Ergonomic Fit
Premium Gloves from RefrigiWear® arrive ready to work whenever you are. With a pre-curved, ergonomic fit, there's no break-in required on these gloves, so you can get right to knocking out the cold and getting the job done.
Iron-Tuff® Insulated Leather Gloves are engineered with Kevlar® reinforced seams, thumb crotch and fingertips and a synthetic leather palm with four times the strength of natural leather. Instead of feeling stiff, these pre-curved gloves bend and stretch with your movements right out of the box.
Premium Gloves built for impact protection also offer a pre-curved, ergonomic fit that reduces hand fatigue. Enjoy the increased comfort of an ergonomic fit on Extreme Freezer Gloves, Extreme Freezer Mitts and Ergo Goatskin Gloves.
Get the Upper Hand with Premium Gloves
When you're knuckle-to-knuckle with the cold every day, you need the warmest work gloves you can get your hands on. Premium Gloves from RefrigiWear® offer protection from the cold and from impact injuries, while keeping your hands flexible so you can get a grip on a job well done. Get gear that helps you knock out the job and the cold when you shop Premium Gloves from RefrigiWear®.