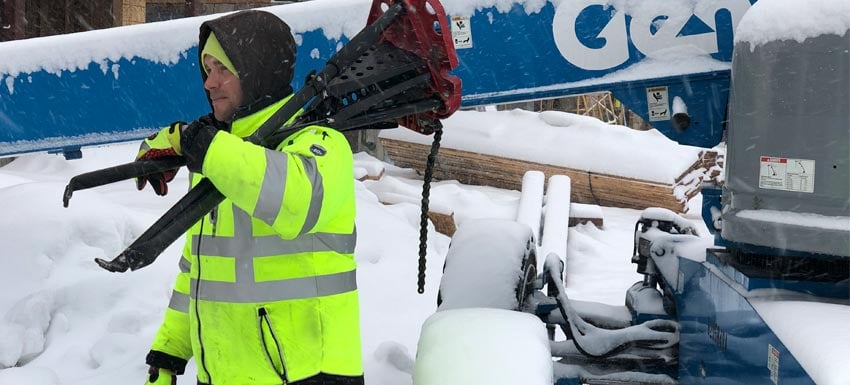 HOW THE PROS AT TRAVIS CONSTRUCTION STAY WARM IN COLORADO WINTERS
Working outdoors in a place like Colorado means you spend a lot of time in weather that keeps other folks indoors. But deadlines don't care about snow, sleet, rain or wind, so the construction workers at Travis Construction need to be protected no matter what Mother Nature and Old Man Winter have in store. Their secret to staying warm on a construction site in winter? RefrigiWear.
The Best Kept Secret in Cold Weather Gear
Travis Construction built a community called Blue River Flats in Silverthorne, CO – which is in the middle of the Rocky Mountains. They broke ground on the 7-building complex of 1 bedroom and 2 bedroom condos and townhomes in fall 2017 and were scheduled to complete the project in winter 2020. That meant more bad weather ahead as they worked to get this community completed!
The pros at Travis Construction know the importance of layering and they chose RefrigiWear® cold weather gear to stay warm and get the job done. A high-visibility jacket like the HiVis Extreme Softshell with a comfort rating of -60°F keeps everyone from feeling the cold while also keeping them seen and safe.
Layering is key when you're doing a lot of physical work that raises your body temperature and a heavy-duty sweatshirt like the Extreme Hybrid Sweatshirt is the perfect mid-layer. We're talking about a sweatshirt that can handle subzero temperatures, includes Performance-Flex on the elbows for improved movement and has a hood with a high neck and fleece lining. This is a mid-layer that can handle a Colorado winter!
Want to get your hands on the cold weather gear the expert construction workers use?