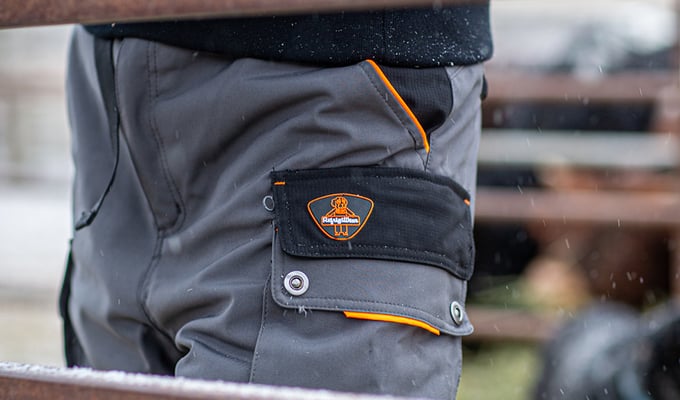 THE BEST PANTS FOR COLD WEATHER
Without the right cold protection for your lower half, you'll freeze your ice off! A jacket is often the first thing to be upgraded, but that only solves half the problem. Whether you're constantly on the move or sitting still all day, you're gonna need warm pants to get through the day in the cold. That's why RefrigiWear® developed pants to make finding the right protection for any kind of cold easier.
Best Work Pants for Chilly Conditions (10°-40°F)
It doesn't have to be freezing outside to be cold. Brisk winds, overcast skies or extra moisture in the air can make chilly temps seem even colder. When you need lightweight warmth to get the job done, look no further than our ChillShield® pants or our PolarForce® sweatpants.
ChillShield® Pants
These cold weather pants protect from 40°F all the way down to 10°F. They're built for hard work with abrasion-resistant panels on the pockets, knees and inner leg for increased durability and they keep you warm and working all day with our lightweight AirBlaze® insulation. Plus, our ChillShield® Pants are made with a quiet material so you can jog, shuffle or dance while you work without noisy gear interrupting your groove.
PolarForce® Sweatpants
Our PolarForce® Sweatpants are built for comfort but these guys aren't for lounging around. They're ready to work with abrasion-resistant patches at the knees and reinforced hem for extra-tough durability during grueling jobs. With all the warmth you expect from our PolarForce® Collection, these sweats keep up so you can keep at it, no matter the conditions.
Warmest Pants for "Yep, it sure is cold" Conditions
Below freezing but not yet negative temps? Yeah, it's still freakin' cold. You might not need all the heavy layers to stay warm, but you definitely need some extra-tough gear that will get you through the day.
Softshell Pants
When you need protection from snow, wind or constant kneeling on rough floors, our Softshell Pants work hard on the toughest jobs. With warm layers to fight off the cold and abrasion-resistant knee patches for durability, these cold weather pants cut through the chill to keep you warm in conditions down to 20°F.
Insulated Softshell Pants
You don't have time to freeze up. Kick up the heat with our Insulated Softshell Pants that protect down to -20°F. With uncompromising warmth, protection from the elements and the flexibility to move with you while you work, you're ready to face whatever the day throws at you.
HiVis Insulated Softshell Pants
When you need protection from the cold and from the hazards of your job, rely on HiVis Insulated Softshell Pants for more warmth and extra safety with ANSI Class E compliance for low-light or high-traffic conditions. Plus, two-tone outershell and soil-resistant Teflon® coating on these cold weather pants work together to prevent staining and resist grime from the toughest, dirtiest jobs.
Pants for "I'm freezing over here, man!" Kind of Cold
"Freezing" doesn't do this kind of cold justice. It's -40°F and you still need to move comfortably because this job waits for no one. You need serious, industrial-strength protection from the warmest pants.
PolarForce® Pants
PolarForce® Pants deliver warmth and performance in one hard-working package. They're water-repellent and wind-tight so they stand up to the elements and keep you comfortable. Built for getting the job done, these cold weather pants don't compromise. With Performance-Flex on the knees for better mobility and easy access cargo pockets on the legs, you're ready for it all.
Iron-Tuff® Pants
Unbearable has a whole new meaning in -50°F conditions. There's only one pair of pants out there that's tough enough to stand up to these kinds of temps. The great protection and durability of our legendary Iron-Tuff® gear is now available in pants. These Iron-Tuff® Pants protect you from cold, wind and rain so nothing comes between you and a day's work done right.
Don't Get Caught with Your Pants Down
Here's your friendly RefrigiWear® Public Service Announcement: Get some RefrigiWear® Suspenders! We know you work hard. You're focused on getting the job done. But the unsightly plumber's crack is not a good look for anyone. Do us all a favor and keep your pants up with our RefrigiWear® Suspenders. You'll stay warmer without the cold sneaking in... and those stares? They'll be because of your hard work and nothing else.
When you don't need the core protection that bib overalls offer but still need a good defense against the cold for your lower half, get a leg up on the job with our RefrigiWear® pants and tell the cold to kiss your molasses.