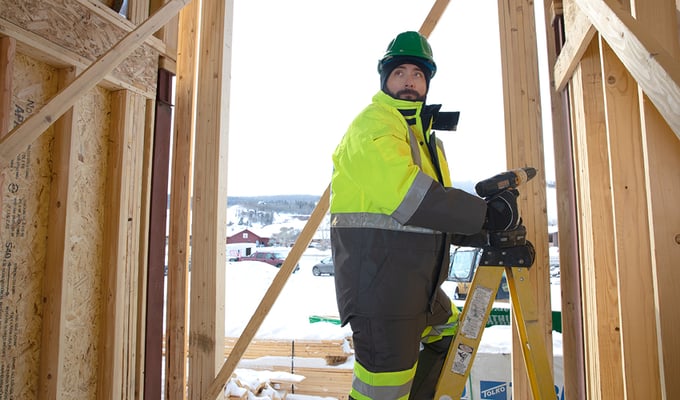 HOW TO SAFELY WORK OUTDOORS IN COLD WEATHER
When you work outdoors you have to face the unpredictable – wind, rain, freezing temperatures, snow and more. Construction deadlines, airline schedules, downed powerlines and other emergencies – you still have to get the job done in spite of inclement weather.
Facing those challenges to stay safe and productive is key to success. Having the right cold weather gear can help you stay warm, stay safe and help you get the job done right. Here are 6 handy tips for safely working outdoors in winter:
1. Know What's at Risk with Cold-Related Injuries
Sure, it sucks to feel cold. But working a long shift outdoors in winter weather can also be dangerous. Make sure you understand how the cold affects your body so you can outsmart Old Man Winter.
Keep in mind that you can experience hypothermia even in pretty mild weather. And, if cold conditions are mixed with rain, snow or biting wind, you'll feel the effects even faster. Frostbite can easily set in on areas of the body left unprotected from the cold, especially on your ears, nose, fingers and toes.
You can die from hypothermia and the first signs include weakness, confusion or feeling tired, slurred speech, shallow breathing and shivering. Frostbite can also create permanent injuries, including the loss of affected body parts, and warning signs include numbness, skin changing color, hard skin with a waxy appearance and clumsiness.
Learn to recognize the signs of these two serious health risks and be prepared to take action. For more information on how to avoid cold-related injuries, check out our tips for people new to working in the cold.
2. Boost Warmth with Base Layers
Starting with the right base layers helps you build a solid foundation for protection against the cold. Whether you choose heavyweight base layers for extreme cold or lightweight base layers for not-so-extreme cold, make sure you choose layers that wick sweat away from your skin.
Letting moisture accumulate against the skin can make you feel colder, even if you're bundled up to your eyeballs. Make sure that you've got a few layers that you can take off when you're working up a sweat and put back on when you're less active.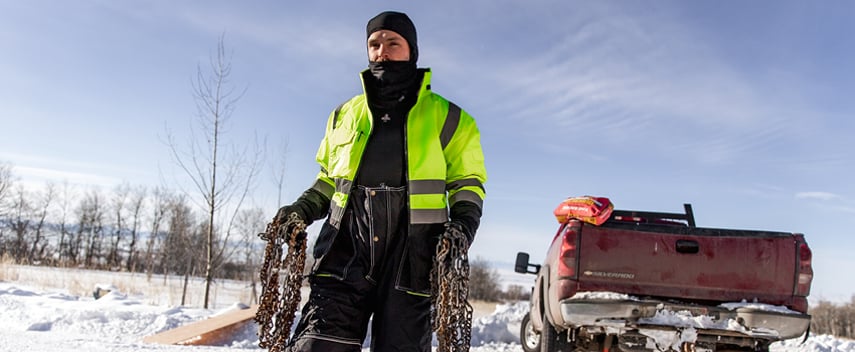 3. Give Winter the Cold Shoulder with Weatherproof Work Clothes
Winter work coats, insulated vests, thermal sweatshirts and weatherproof coveralls keep your torso warm and protected. This core part of your body holds all your vital organs, so you must choose the right insulated winter gear if you want to stay productive.
Choose durable, dependable insulated workwear that keeps your core warm no matter the conditions or job duties. Remember that it's not just about staying warm – choose outerwear that will help you fight wind, rain, snow and anything else that winter might blow your way. Look for wind-tight gear like the original Iron-Tuff collection from RefrigiWear or waterproof jackets and bibs like the ErgoForce collection. And, when you need protect from truly frigid weather that's well below zero, look for Extreme jackets and bibs rated for -60°F or PolarForce gear rated for -40°F.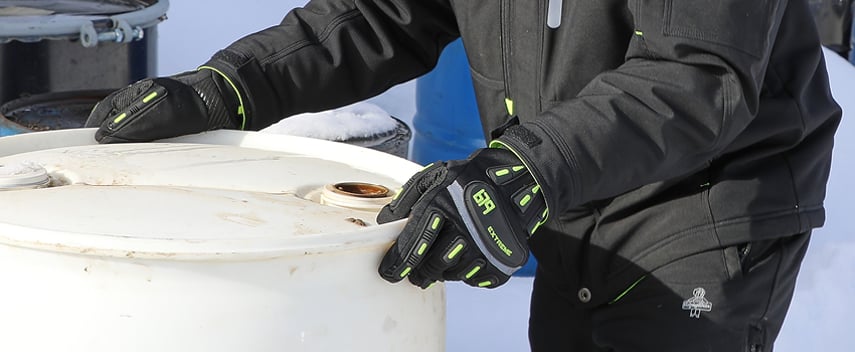 4. Get a Grip on Warmth with Insulated Work Gloves
When temperatures drop, it isn't just the air that gets cold. The equipment you work with gets cold, too, and it can transfer that cold to you when you touch it. Insulated gloves protect against the cold air and from cold transfer while you're working.
Keep a good grip on your tools and equipment – without giving up all your dexterity – when you choose insulated work gloves that include flexible materials, a pre-curved fit and accordion-stretch panels across the knuckles actually make it possible for you to do more that just shake your fist at the cold.
If you're working with heavier tools or equipment (or a clumsy coworker!), choose thermal work gloves with impact protection pads. And, depending on the work you're doing, you might need touchscreen capabilities or waterproof coatings, too.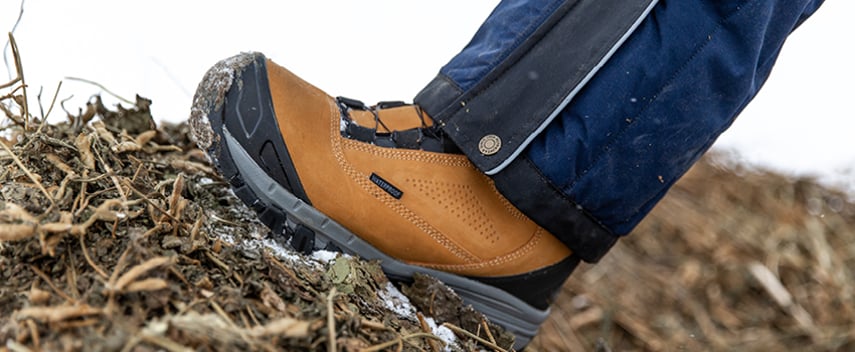 5. Kick Cold's Ice with Winter Work Boots
Why are the feet so important? First, if your feet aren't comfortable, no part of you is. Keeping your feet warm and supported is important to overall comfort and health. If you're thinking about how much your feet hurt, you aren't thinking about the job. The right footwear also helps prevent cumulative injuries like back pain and helps fight fatigue when you're on your feet all day.
Plus, slips, trips and falls are the cause of most workplace injuries. Proper footwear helps prevent these injuries by reducing the chance of slipping in hazardous conditions.
For maximum comfort and productivity, look for insulated leather work boots with slip-resistant soles, composite safety toes, waterproof uppers and sufficient insulation against the cold temperatures you're facing.
6. Keep Your Head in the Game with Thermal Headwear
Hard hats are *not* known for their warmth. Neither are ball caps, and pulling a hood up can block your peripheral vision and make it less safe to operate a forklift or other heavy equipment.
Look for insulated caps, gaiters, masks and balaclavas that conform to your head and don't obstruct your vision. RefrigiWear offers a wide selection of insulated headwear, including masks and headbands that fit over or under your hard hat.
Stay Ready for Winter's Worst
There's more to taking on the cold than just throwing on a jacket and some gloves and getting to work. You need dependable protection from the elements so your body isn't wasting energy on trying to stay warm or cool, and you aren't distracted by discomfort.
Once you know the type of gear you need to stay protected, look for features that help you and your employees be even more productive in outdoor working conditions so you can focus on what matters most – getting the job done.